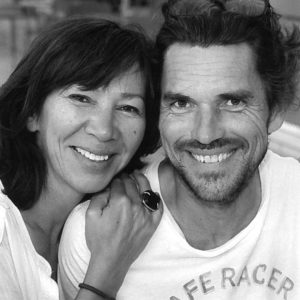 Casa Cat Ba is a beachfront unique private hotel created by Colette & Pierre-Marie, a French couple who has decided few years ago to quit their corporate jobs in Bordeaux and travel different countries to find a place where they will be able to create the holiday's peaceful property they had in mind.
They went from Southern Europe to Vietnam, from Brazil to Florida, and finally stopped in Mexico, the Yucatan peninsula, where they fell in love with the unique and magical island of Holbox.
There, they discovered a villa on the beach village and were lucky to succeed in acquiring it.
They used their experience of decoration after redoing the house to turn it into what Casa Cat Ba is today: a unique hideaway of 5 bedrooms with private terraces, a few steps above the clear tropical waters.
Colette & Pierre-Marie propose you to live a tropical beach life experience by renting one, several or the whole house, surrounded by the palm trees of the garden, in the heart of the typical village of the island.